Contact Dermatitis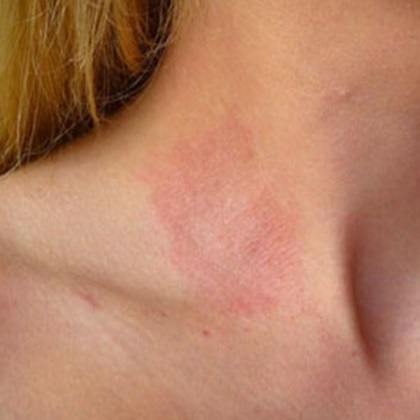 Contact dermatitis is a common skin condition that occurs from exposure to a substance that irritates the skin. The effects are represented by redness and inflammation. This may be caused by certain soaps, deodorants, jewelry or even some plants.
The most infamous form of the condition stems from contact with Poison Ivy. Poison Ivy is a plant that secretes oil, which upon contact with the skin causes irritation leaving behind a rash. Although the rash is extremely uncomfortable, itching or scratching the infected area will cause the condition to worsen. Not only will the inflammation further increase, but it may also lead to scarring and darkening of the skin (post inflammatory hyperpigmentation). Within the first few days of contraction, the treatment methods tend to be more effective and efficient. For periods beyond that time, such as a week or two, options may include a topical steroid.
The most successful treatment options when dealing with any form of contact dermatitis include identifying what causes the reaction, avoiding it (if possible), and taking the corrective steps and it should improve within a few weeks. Although this condition can become quite serious it is not life-threatening, nor contagious. If you believe you may be experiencing contact dermatitis call our office immediately.
Seal's Skin Condition Uncovered
Musicia
n Seal has been entertaining audiences since the early '90s with hits such as "Crazy" and "Kiss from a Rose," but what the singer may be most well known for is the marks on his face. Those marks are a result of a skin condition known as discoid lupus erythematosus. This is where the body's immune system attacks healthy tissue leading to long term inflammation causing sores. Generally affecting the skin above the neck, the sores can leave deep scarring.
Although no one knows exactly what causes the condition, there are ways to effectively manage it. Cortisone ointment and injections directed at the sores can help reduce the scarring associated with the condition. If you believe you may be suffering from discoid lupus erythematosus contact our office immediately.
Garner Great Skin With Clarisonic
After watching the Oscars last night, it may seem like celebrity skin is the epitome of perfection, but don't be fooled, they struggle with the same issues that everyone else does. Whether it's acne or wrinkles, they are always looking for the latest trends or products to keep their skin looking fantastic.
Actress Jennifer Garner is no different. Her secret to keeping her blemishes at bay is the Clarisonic Skin Cleansing System. It improves skin tone, reduces the appearance of pore size, and helps other skin care products work that much better. The Clarisonic Skin Cleansing System utilizes a patented sonic frequency of more than 300 movements per second to clean, soften, and smooth the skin. In just a minute, it removes six times more makeup and twice as much dirt and oil than cleansing with just your hands.
Jennifer has reaped the benefits from using Clarisonic, you should too! Call our office today to get yours!
The "ABCDE's" of Melanoma
Did you know that melanoma is the deadliest form of skin cancer? Although it is less common than other forms of skin cancer it can spread quickly and develop anywhere on the skin. The disease is caused from overexposure to sun or ultraviolet radiation, especially within people that have fair skin.
There are five major signs/symptoms to look for when determining if you may have some form of Melanoma. These are known as the ABCDE's of Melanoma and they include:
A-Asymmetry: Early forms of melanoma are asymmetrical, meaning that you cannot draw a line down the middle and have equal parts on each side.

B-Borders: Uneven borders with irregularities or blurs.

C-Color: Varying shades of brown, blue or black.

D-Diameter (size): Melanoma tend to be larger than normal moles, ones the size of a pencil eraser are something that you should look at closely.
E-Evolving: Any changes in the size, shape, color, or feel.

If you are unsure if any of these signs pertain to you or notice that some might, do not hesitate to set up an appointment immediately at the Neiman Dermatology Building.
Introducing DermCare NP, Our Own Exclusive Skin Care Product Line
Are you ready for beautiful, flawless skin? Introducing DermCare NP – a brand new skin care product line exclusively available at the Neiman Dermatology Building.

With only the purest ingredients, DermCare NP is scientifically formulated to provide versatile skin solutions for all skin types. Currently, DermCare NP features six products:
Advanced Eye Restore + Lifting Cream – improves your skin from the inside out, resulting in profound hydration, helping to improve the appearance of skin texture and overall skin radiance.
Human Growth Factor Daily Serum – formulated to unlock your youth using a blend of peptides, regenerative cytokines and botanical extracts to promote beautiful, radiant and youthful skin.
Hydrating Cooling Mask – a unique medical grade gel mask that restores skin elasticity, structure and suppleness. Immediately, skin appears firmer, toned and sculpted as it hydrates and rebalances skins naturals oils.
Intensive Hydrating Serum – formulated with a high concentration of Hyaluronic Acid, peptides and niacinamide to restore hydration, stimulates collagen and improves overall skin radiance. These ingredients help the skin's appearance look plumper and fuller as the skin's hydration is replenished.
Lash Enhancer Serum – achieve the look you've always wanted by transforming your eyes with this iconic eyelash serum. It works to enhance beauty and create red carpet looking lashes. Lash growth can be seen to improve within 28 days with once-a-day application.
Lifting + Firming Gold Mask – gives an immediate radiance boost for a plumper, fresher, brighter complexion. It minimizes irregularities, smooths skin tone, skin texture and softens lines and wrinkles, while it illuminates the skin appear. This lavish, pampering treatment helps to improve the appearance of fine lines and wrinkles for a youthful-looking complexion. Caffeine helps tighten and firm the look of skin, it re-energizes and helps reduce the aging effects of stress. The 24K gold imparts an opulent, radiant glow and locks in moisture for ultra-hydrated skin.
If you're looking for safe, instantly effective products that deliver optimal results for all skin types, look no further than DermCare NP. To learn more about DermCare NP products call our office at 716-688-0020 today.