Your Skin and the Food You Eat
Did you know that the food you eat has a direct correlation with the overall health of your skin? It can influence the tone, texture, and clarity of your skin. That's right! The secret to healthier, more beautiful skin may lie in your diet. Here are some foods that can improve the appearance of your skin…
•Berries. The rich antioxidants found in berries have been proven to protect skin from premature aging.

• Dark Chocolate. Has been known to help skin stay hydrated and protect it from sun damage.

• Kiwis. Contains vitamin C and antioxidants which helps keep skin stay firm and prevent wrinkles.

• Spinach. Rich in calcium, iron, omega-3 fatty acids, vitamins (especially vitamin A), nutrients, and antioxidants which are all great for skin health.

• Tomatoes. The best source of the anti-aging antioxidant, lycopene.

• Walnuts. Eating these will give your skin a smoother appearance, plus you'll also be able to get your daily intake of vitamin E and omega-3 fatty acids.

• Yogurt. Has a high amount of calcium and vitamin A. The protein you get from dairy helps skin to become firmer thus preventing wrinkles.

• Sweet Potatoes. They are full of vitamin C, which smoothes wrinkles by stimulating the production of collagen. Also are loaded with beta-carotene, an antioxidant that fights aging.
Tips to Keep Your Skin Healthy
The skin is the largest organ and is vital in protecting our body. That's why keeping it healthy is of the utmost importance. With November being National Healthy Skin Month, there is never a better time to explore some ways to keep your skin in the best of health all year round.
•Determine your skin type (oily, dry, combination, normal or sensitive) then choose appropriate skin care products specifically tailored to that type.
• Wash your face every day using a mild, fragrance-free cleanser with lukewarm water. Don't forget after exercising as well!
• Moisturize daily by applying a lotion or cream while your skin is still damp from bathing. This helps to lock in moisture and gets the best results.
• Protect your skin from the sun by seeking shade, wearing protective clothing and using a broad-spectrum, water resistant sunscreen with an SPF of 30 or higher.
• Examine your skin regularly for suspicious or unusual spots which could be a sign of skin cancer. Keep a lookout for anything changing, itching or bleeding.

If you notice anything suspicious on your skin, or if you have a question about skin care, give our office a call today.

Source: The American Academy of Dermatology (AAD)
The Dangers of Indoor Tanning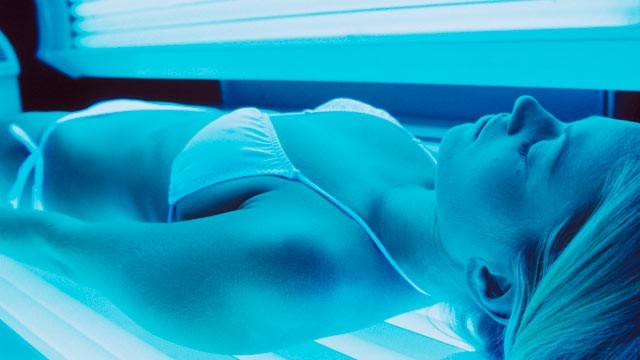 It is a common misconception that a tan is a sign of good skin health, this is not the case.  A tan is actually a sign of damage to the skin and can be just as dangerous as a sun burn.  It can cause skin to age prematurely as well as contribute to skin cell damage. Indoor tanning salon booths and beds in particular pose an even greater threat, delivering up to 15 times more UV radiation than the sun.
On average, more than 1 million people tan in tanning salons each day in the US alone.  These statistics are alarming considering the serious health risks involved.  Not only can tanning lead to unsightly brown spots and wrinkles, but it can also significantly increase the possibility of developing skin cancer.  Many tanning salons avoid those facts though, and instead promote the idea that tanning is a great source of vitamin D.  Adequate vitamin D however can be obtained in a number of healthier ways, whether through the consumption of fish, milk, orange juice or supplements.
Though a tan may look good now it can have harmful effects on the health of your skin later.  Simply put, there is no such thing as a safe tan especially when it comes to indoor salons.
Source: American Academy of Dermatology (AAD)